Liu Feilong
Kuei Jin * Chant de l"Ombre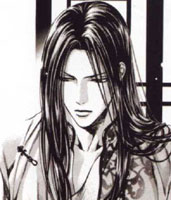 Inscrit le: 22 Mai 2007
Messages: 216

Posté le: 23/05/2007 23:00:56

 

   Sujet du message: Feilong

---

Nom : Feilong

Dharma : Le Chant de l'Ombre

Niveau : Niveau 4

Disciplines et niveau des Disciplines : Shintai du Démon 4, L'obligation 4, Shintai de la flamme fantôme 3, Shintai du poison 3, Shintai du sang 3, Shintai de Jade 2, Shintai de la fumée 2, Shintai des tempêtes 2, Shintai de la pourriture 1, Équilibrage 0, Intériorisation 0.

Alignement : Mauvais

Travail : Leader d'une mafia orientale.

Description physique : Feilong est avant tout bel homme. Terriblement froid, distant, hautain peut-être, mais beau. Ses cheveux sont noirs comme tout bon asiatique qui se respecte, et il les porte longs, lâchés ou tressés. Il a les traits fins, et son côté efféminé ne lui donne pas, à première vue, l'air d'être quelqu'un de particulièrement redoutable.
Ses tenues témoignent de ses origines orientales, portant toujours des tuniques recherchée, et visiblement très chères.

Caractère : Le vampire est effectivement froid, distant et hautain. Tel n'a pas toujours été le cas, mais maintenant c'est une certitude. Il sait ce qu'il veut, comment l'obtenir, et ce par n'importe quel moyen ou presque. Il supporte très moyennement que les choses lui échappent. Sa principale entrave résident dans son sens de l'honneur étouffant, et son côté terriblement vindicatif.

Historique : Pour ceux qui ne sont pas assez yaoiste pour sortir leur merveilleux Viewfinder volume 2 ( hé oui, on se fait plaisir )...
Du temps ou il était en vie, le père de Feilong dirigeait une des mafia orientale. C'est à cette époque que Feilong a rencontré Ryuichi, ignorant qu'il avait affaire à un Kuei-Jin. Pour des raisons obscures que je vous passerai, Fei s'est retrouvé à s'opposer à son frère partant de son côté avec le vampire.
La situation finit par déraper, et ledit frère tua son père. S'étant fait refaire le portrait par Ryuichi, au bord de l'agonie donc, il raconta à Feilong que le vampire l'avait mis dans cet état après avoir tué son père. Et bien entendu, Fei ne marcha pas dans la combine, il couru.
Il finit par se faire tirer dessus pour une raison que je ne développerai pas mais qui implique Ryuichi, et en mourut.
Tout ce qu'il sait quant à son retour à la vie, est que son Po est venu à lui, poussé par Ryuichi. Chose qui ne l'aide pas à apprécier sa situation actuelle.

Point fort : Social

Point faible : Physique

Armes : Un pistolet gros calibre avec l'option silencieux à l'occasion. Il se défend également très bien à main nu.
_________________


All good things must come to an end, but the bad ones can continue forever.